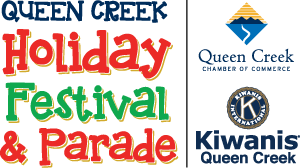 Where does the parade begin and end?
The parade begins on Ellsworth Rd at Aldecoa Dr and ends at Maya Rd.
What time does the parade begin?
The parade starts at 3:30pm.
I purchased pre-sale wristbands, where do I get them?
Pre-sale carnival wristbands will be available at the carnival ticket booth on the day of the event. No wristbands will be mailed or emailed. 
What time does the festival open?
The festival opens at 2pm. 
Where is the Queen Creek Holiday Festival and Parade?
The parade runs North on Ellsworth Rd between Aldecoa Dr and Maya Rd.
The festival and carnival are located at the Queen Creek Library.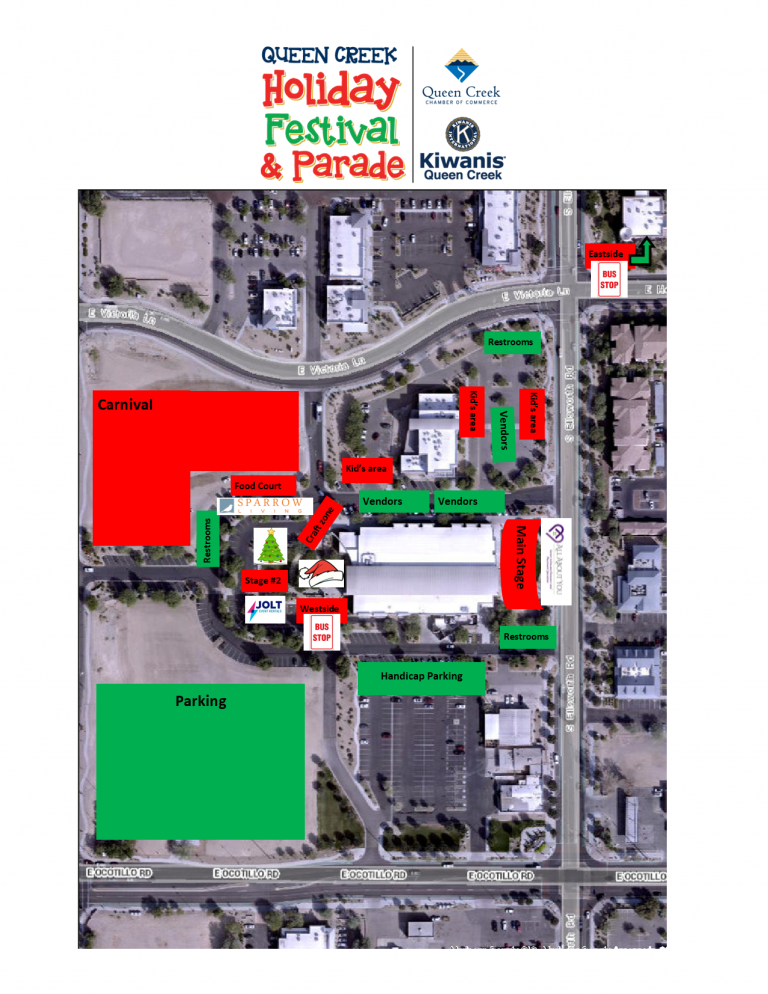 Are there free activities?
Free activities for the kids include photos with Santa, crafts, and three inflatable interactive games (soccer darts, whack a mole, and axe throwing).
There is a nominal charge for carnival rides and games. Unlimited ride wristbands are $30.
Free parking is available at various locations around Town Center. There is also a shuttle running from Desert Mountain Elementary and Central Christian Church. 
Where is handicap parking?
Handicap parking is available on  the south surface lot at the Queen Creek Library?
Rain is in the forecast, will the event be canceled?
The event is rain or shine. Make sure to dress appropriately and bring your umbrella! 
I signed up to be a vendor but haven't received any information.
Make sure to double check your spam and/or promotions folder. If you still don't have one the information is below:
Vendor Guidelines:
Vendors may load in beginning at 11a.m. on Saturday, December 2nd.
All vehicles must be unloaded and off event side by 1:00p.m.
Vendors need to be set up by 1:30p.m.
Vendors will enter event site from Ellsworth Rd, a more precise map will be sent out the week of the event.
Equipment/Supplies:
Vendors are required to provide their own set up (i.e. tables, tents, chairs, etc.). If using a pop up tent, please bring weights to anchor down your tent. Vendor booths are located on asphalt and does not allow for stakes.
Electricity and water will not be supplied.
Vendor Operations:
Vendors are required to be operational for the entire duration of the event. Vendors who close prior to the conclusion of the event may be prohibited from future Holiday Festival and Parades. Event hours: 2p.m. – 7p.m.
Vendor booths must be staffed, operational and ready for inspection by 1:30p.m.
Vendors will not be permitted to drive into the event site until after 7p.m., after the crowds have cleared, and after given approval by event staff
Vendor breakdown must happen prior to vendor vehicles being allowed access into the event site.
Cleanup:
Vendors are responsible for clean-up at the end of the event by removing all equipment, supplies & trash, and leaving the public space in the same or better condition as initially presented
While there will be public trash cans out, vendors must bring their own trash receptacles, trash bags and be responsible for disposing of their own trash
Unapproved dumping will result in a cleanup charge equal to time and material used, and future vending with the Holiday Festival and Parade will be prohibited.
If you still have questions, please reach out to the Queen Creek Chamber of Commerce at 480-888-1709.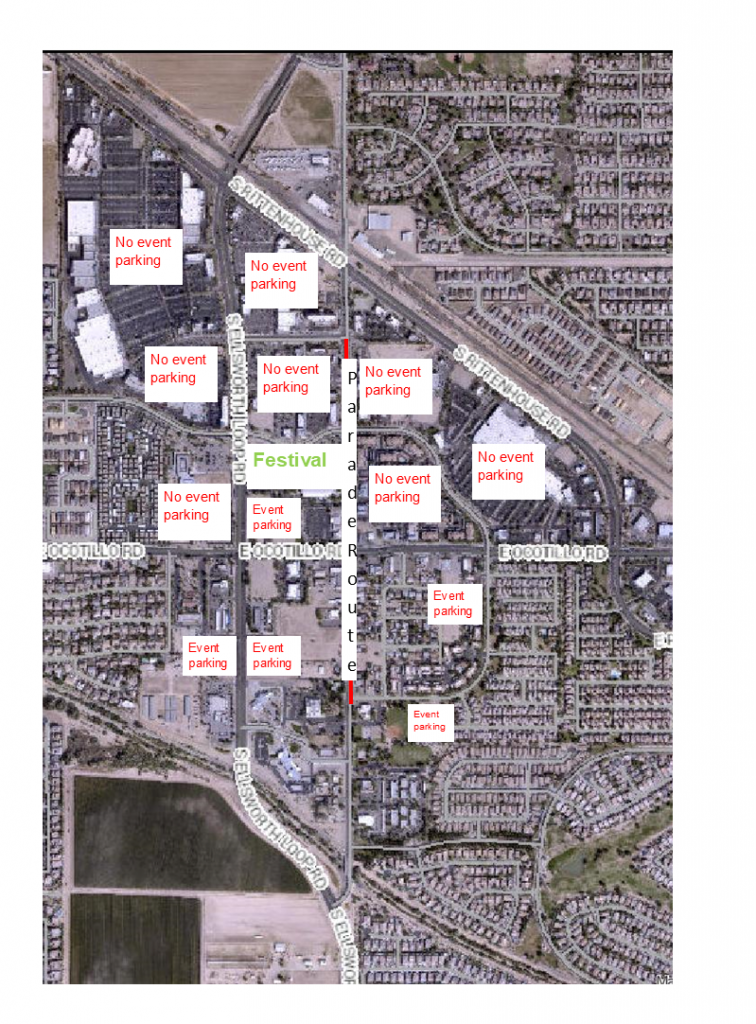 I signed up to be in the parade but haven't received any information.
Make sure to double check your spam and/or promotions folder. If you still don't have one the information is below:
Thank you for entering the 2023 Queen Creek Holiday Festival and Parade! The following information will help make the day fun for all! Please visit the event's website at www.queencreekparade.org for more information.
The parade route is ¾ of a mile long. Staging will be located south of Ocotillo & Ellsworth Road Intersection near the Serrano's restaurant. The parade will go north on Ellsworth Road
Decorating your float is highly encouraged. Theme: TBD
The judges' stand will be located east of the Queen Creek Library on Ellsworth Road.
Time:
Float Check-in: 1pm-2:30pm
Parade Start Time: 3:30 pm
Parade End Time: 5:00 pm (approx)
Festival start Time: 2pm
Tree lighting time: 6:00pm
Parade Entry Check-in:
Check In Location:
Ellsworth Road ½ mile south of Ocotillo Road (near Serrano's)
Parade Traffic:
All

parade

participants must enter the

parade

staging area from the Ellsworth Loop turning east on Ellsworth Road. Traffic will only be allowed to head northbound on Ellsworth Road.
Road Closures:
Beginning at 10am, Ellsworth Road will be closed from Ocotillo to Sierra Park Roads for all traffic except the

parade

floats.
Road will close for all traffic at 2pm.
Line-up Number:
Float will receive at check-in.
Number should be placed visibly on the driver's side of the

Parade

entry.
After receiving your number at Check-in all entries will pull forward and follow the directional signs to your staging number.
Parking:
No

parade

parking will be allowed in

Parade

Staging area located on Ellsworth Road between Sierra Park Ln & Aldecoa Rd
Please see map below for general parking locations or visit
Drop off instructions:
All participants should be dropped off at the designated area located near the Bistro's restaurant on the corner of Ellsworth Road & Sierra Park Ln.
2 Chaperones for groups with youth under 12 required:
Parents may drop off their children only if 2 chaperones for the group have arrived and have checked in their float.
One Chaperone will be asked to stay with the float and the other Chaperone will wait for all of their participants to be dropped off at the designated area.
Traffic Flow:
Traffic will only be allowed to travel north on Ellsworth road.
No shuttles will be provided and the parents are asked to park at the end of the

parade

(Queen Creek Library) after dropping off their children.
Only the vehicles/floats in the

parade

will be allowed in the staging area
Parade End & Demobilization:
Walking groups will turn left to de-stage on Maya Road. Floats will de-stage between Maya Rd and Rittenhouse Rd. Participants must get off and decorations must be removed. All floats must be street legal before proceeding East bound onto Rittenhouse Rd.
Please de-stage as quickly as possible so de-staging doesn't backup on the

parade

route.
Please watch your children carefully as there will be moving vehicles in the area.
For safety reasons, picking up or allowing riders to exit floats along Rittenhouse Rd is strictly prohibited.
There will be no stopping allowed on Rittenhouse Rd.
Restrooms:
There will be restrooms available Staging area and the Queen Creek Library.
Judging and Awards:
Parade

Entries will be judged based on:

Originality: Creativity, quality, and uniqueness of decorations
Holiday Theme: Recognition of display of Holiday theme
Overall: General appearance, eye appeal, and music.
General Queen Creek Parade Rules:
All equestrian groups are to have their own clean-up team (pooper scoopers)
No alcoholic beverages of any kind are allowed in staging/de-staging areas, on floats nor may they be consumed by participants before or during the

parade

.
Candy, gifts, etc. may NOT be thrown from floats.
Literature may NOT be handed out.
All children eight (8) years of age or under, including infants and strollers must ride on a float or in a vehicle. No strollers or children on bicycles are allowed on the street.

Parade

participants may not jump onto or off any float or moving vehicle and may not interfere with any other unit in the

parade

.
Entries cannot depict blood, any type of violence, drugs, illegal activities, or other actions deemed inappropriate by the Queen Creek Holiday Festival and

Parade

.
Entry fees will not be refunded.
Failure by a participant or parent(s) of participant(s) to obey any police officer or

parade

official will be cause for that entry to be removed from the

parade

.
All vehicle drivers must have a valid driver's license in their possession. All motorized vehicles must have liability insurance in effect on the day of the event and the driver must present a valid insurance card if it is requested.
A minimum of on 2A-10BC type fire extinguisher must be provided on all float units.
All entrants will be checked in before entering the

parade

line. Any entry which does not conform to the signed application or rules will be disqualified and may not be allowed into the

parade

, and entry fees will not be refunded.
There is one official Santa in this

parade

, no other Santa costumes or Santa depictions are permitted.
Please incorporate the theme of the

parade

in your float design, if possible: TBD
Have fun!
If you still have questions or concerns, please reach out to the Queen Creek Chamber of Commerce at 480-888-1709.